Carolina Medical Center is a private orthopaedic clinic and all services should be covered before the first medical procedures are performed.
Methods of payment:
credit card (we accept Visa and MasterCard)
cash (all the bills and invoices are expressed in Polish currency)
bank transfer to our bank account:
Beneficiary name: Sport Medica S.A.
Bank name: PKO BP
Bank address: ul. Nowogrodzka 35/41, 00-950 Warszawa
IBAN: PL12 1020 1169 0000 8302 0094 7408
SWIFT/BIC: BPKOPLPW

---

bank routing number – 1020 1169
bank account number – 0000 8302 0094 7408
account type – checking account
VISIT TO THE CLINIC – STEP BY STEP
Arranging consultation:
In order to arrange a medical appointment please call +48 22 355 82 00. You will be asked to make a payment at the reception desk upon arrival. In case of emergency, you should visit our ER open 24/7 and pay upon registration.
Consultation:
Before going to the doctor's office you must register at the reception. You will be asked to fill in personal questionnaire, giving your data and contact information, with particular emphasis on e-mail which will facilitate contact with you. You will also be asked to make a payment. After meeting the formal requirements you will be invited to the doctor's office.
Diagnostic tests:
During the consultation the doctor may decide that you should undergo diagnostic tests. He will then issue an appropriate referral and ask you to go to the Center for Diagnostic Imaging on the ground floor. Patient Coordinator will propose testing at a convenient time. You will be asked to pay before actual test.
Surgical treatment – planned:
During the consultation the doctor will discuss with you methods of treatment and possible risks associated with treatment. If you decide to undergo a surgery, the doctor will issue the appropriate referral. In order to arrange admission to hospital, to find out about the rules of stay and to determine the date of the admission, you will be asked to go to the Coordinator of Hospital Care who will also inform you what laboratory and further diagnostic tests are required before surgery and when you would have a consultation with an internist and anaesthesiologist. The coordinator will also prepare a cost estimate based on doctor's referral, and this amount you will be required to pay before admission to the hospital.
Surgical treatment – CITO:
In case the surgery should be performed immediately (accident, sudden trauma), you will be admitted without paying, provided that you sign Payment Obligation. This document guarantees that you would cover the cost of treatment after the actual procedure is performed.
Final settlement:
In some cases, the final cost might be different from the amount already paid (this is indicated in the agreement for treatment), which would be the result of additional services rendered (extra physiotherapy, extra days of hospital stay etc), therefore you may be liable to cover extra costs for medical services. In such case, the Coordinator of Hospital Care will send you a request for payment of the missing amount together with the list of additional services.
Our priority is to keep you well-informed and fully understand the method of estimation the cost of your treatment and received invoices. If you have any questions about your bill please contact: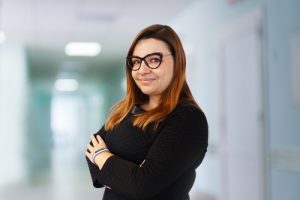 Magdalena Wierzbicka
magdalena.wierzbicka@carolina.pl
+48 22 355 83 18
Mobile/WhatsApp: +48 887 800 140