Yoga is more and more often recommended for orthopedic patients as a complement to rehabilitation. It is recommended for everyone, regardless of age. Systematic exercises, selected by a qualified physiotherapist, taking into account the individual predispositions of the patient, as well as the type of disease and the degree of ailment, can significantly accelerate the entire recovery process. Yoga is regarded as an aid in conservative rehabilitation and recovery after surgery. It combines stretching and strengthening exercises, as well as meditation and controlled breathing. It increases the endurance and flexibility of the muscles, but also relaxes them. Patients undergoing yoga physiotherapy achieve an increased range of motion in the joints and greater comfort of movement.
For whom are yoga classes combined with physical therapy recommended?
Physiotherapy combined with yoga is recommended for people:
who have been diagnosed with a hernia of the intervertebral disc (discopathy) or scoliosis (numerous scientific studies – e.g. published in 2011, indicate that yoga helps to reduce back pain);
with osteoarthritis;
who suffer from chronic pain due to carpal tunnel syndrome;
who recently underwent surgery (as support for treatment);
who have a sedentary job (as a prevention of pain);
children (after prior physiotherapeutic consultation) to maintain proper muscle function, work with posture defects and prevent pain or diseases of the musculoskeletal system;
who suffer from tension aches, e.g. headaches, backaches;
who want to improve body awareness;
who suffer from severe menstrual pain (PMS).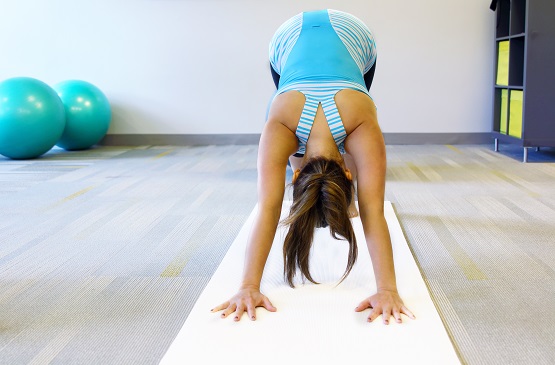 Contraindications to yoga exercises during rehabilitation:
Advanced osteoporosis – rehabilitation combined with yoga has a preventive effect in the initial stages of this disease. However, in advanced osteoporosis, the specificity of exercises, such as strong twisting of the torso and bending of the limbs, increases the risk of injury and may result in an osteoporotic fracture.
Imbalance due to neurological syndromes or problems with the labyrinth – yoga poses require us to stay in one position for a long time, which in case of problems with balance may result in a fall.
Uncontrolled pressure surges.
Yoga is considered to be one of the safest forms of activity, but during pregnancy or after joint replacement surgery, you should visit your doctor who will give you appropriate recommendations. On this basis, the physiotherapist will adjust a set of exercises that will be less stressful for you and completely safe. During menstruation, a woman can also benefit from rehabilitation with elements of yoga. In such case, you should consult a physiotherapist who will suggest a different set of exercises – without inverted positions..