MEDICINE FOR THE ACTIVE
RUNNERS' PACK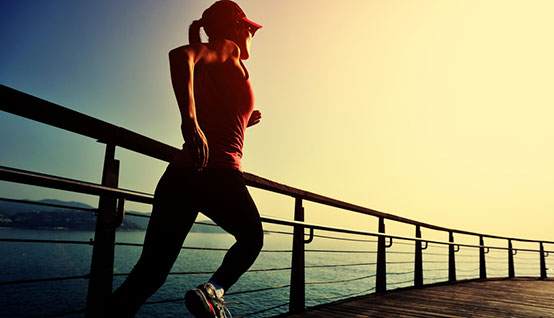 Many Carolina Medical Center specialists are passionate runners, who run another 10k, half marathons and marathons. It is them – orthopedists, diagnosticians, biomechanics, physical therapists and personal trainers – who have jointly developed a program that allows to run healthier, faster, longer and better.

The program is dedicated to those who want to start or return to the adventure of running as well as to seasoned runners who want to improve their personal bests.
Providing information and practical training tips to professional and amateur runners which will enable him to run faster, more efficiently and healthier.
Basic package price is PLN 490.
SERVICES WITHIN THE PACKAGE
Part 1 – in Functional Diagnostics Center (about 60 minutes):
Medical interview. Interview with functional diagnostician, with a view to identifying possible contraindications for testing.
Walking and running on a treadmill video analysis. The analysis will assess the work of the pelvis, knees and feet during movement. We will also evaluate whether the foot tends to pronate or supinate and how shoes or shoe insert can improve this setting.
Walking and running analysis on a podometric path. This method allows to determine places  of increased pressure, which cause painful afflictions of nerves, and even bone fatigue fracture of the foot. Here we will also evaluate how running shoes are able to absorb the increased ground pressure.
Stabliographic examination (dynamic) – that is proprioception, balance and neuromuscular control – and therefore the elements affecting the stability of the body. The research is particularly important during the standing on one leg – the better stability and neuromuscular control, the better the amortization of the body and a lower risk of ankle and knee injuries.
The measurement of the strength of muscles which are responsible of bending, straightening and rotating the knee – testing will objectively determine which muscles need strengthening to improve the biomechanics of motion and efficiency of the training.
Part 2 – in Training Center CMTS (about 60 minutes):
Discussion on the results (with diagnostician or a trainer)
Consultation with a motor preparation coach – who will analyze test results and propose practical solutions for training, suited for the objectives of the runner
Part 3 – optional, additionally paid – only on diagnostitian's request
Stabliographic examination (static)