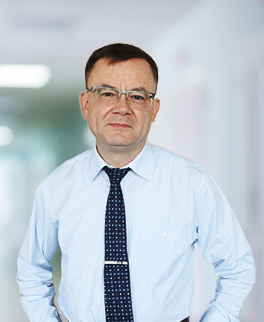 MD, PhD with habilitation
He specializes in the diagnosis and treatment of knee, hip, shoulder, spine, hand and foot deformities, wound vacuum therapy with VAC, Pico and Avelle systems. He has particular experience in surgical treatment of infections of endoprostheses of the joints, implants, inflammation of bones and joints.
Operations performed:
hip and knee replacements,
carpal tunnel syndrome, snapping finger,
hallux valgus (bunions), hammer toes,
fusion of bone fractures,
adhesion disorders,
revision surgery of joint endoprosthesis,
surgical treatment of osteoarthritis using biomaterials,
skin grafts, muscle flaps.
MEMBERSHIP IN SCIENTIFIC SOCIETIES
PTOiTr (Polish Orthopedic and Traumatological Society)
EBJIS (European Bone and Joint Infection Society)
PTZS (Polish Association of Hospital Infections)
Doctor Babiak graduated from the Medical University of Wroclaw.
In 2014 he received a postdoctoral degree, which was awarded at the Medical University of Lodz.
He gained professional experience while working and training in clinical hospitals in Poland, Germany, Switzerland and Sweden.
In 2018, doctor Babiak was responsible for the hip and knee endoprosthesis at the Orthopedic Clinic in Eskilstuna, Sweden.
Until 2017, he was an assistant professor and Head of Traumatology Department of the Medical University of Warsaw (WUM), and lecturer at the English Division of Medical Faculty of the University of Warsaw.
He is a lecturer at training courses on revision surgery of joint endoprostheses, osteoarthritis, arthritis endoprosthesis planning, complications in orthopedics.
Doctor Babiak is the author and co-author of 130 lectures and speeches that have been presented at national and international congresses.
He is the author and co-author of 54 scientific publications in Polish and foreign magazines, as well as chapters in 13 books (including textbooks for students and physicians specializing in orthopedics).