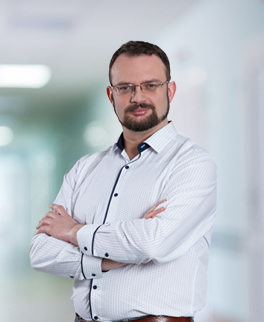 Fully independent, experienced specialist in neurosurgery. He mainly deals with comprehensive diagnostics and surgical treatment of spine pathologies in various age groups. His core activity is the surgical treatment of pathologies of the spine and peripheral nervous system, the treatment of pain syndromes of the spine and pelvis, sacroiliac joints pathologies. He graduated from the Medical University of Lviv (Ukraine) and the Institute of Neurosurgery A. Romodanov in Kiev (Ukraine). Dr Kseniuk applies the following surgical methods of treatment of spine diseases:
minimally invasive (targeted blockades under the control of X-ray and ultrasound, treatments to relieve pain, endoscopy, microsurgery)
classic (procedures treating disc herniation, neuralgia, ischialgia and sciatica of the shoulder, spondylolisthesis, spinal deformities, injuries and tumors of the spine)
corrective (after an unsuccessful surgery at other centers)
pain management (blockades and cordotomies, thermolesion and neuromodulation, spinal cord stimulation)
Dr Kseniuk speaks English, Russian and Ukrainian languages.